A community project
The idea behind the Big Art Club was simple:
Invite a group of kids from our local primary school to come along to weekly sessions and experiment with art materials, try out new things and develop a final piece for exhibition.
Along the way I shared ideas about how to use the materials, showed them the work of artists and talked to them about developing their ideas.
After 10 weeks they had all produced at least one large piece of work and many smaller ones which we think it's fair to say, they were pretty proud of.
A helping hand
Right from the start Ginny Millard, who is a governor at the school offered to come along and help. Her calm approach with the kids was an ideal addition to the experience they were having and made a big difference.
The icing on the cake was to have Kate York there to capture the whole thing on camera. The video she created says it all and is absolutely lovely.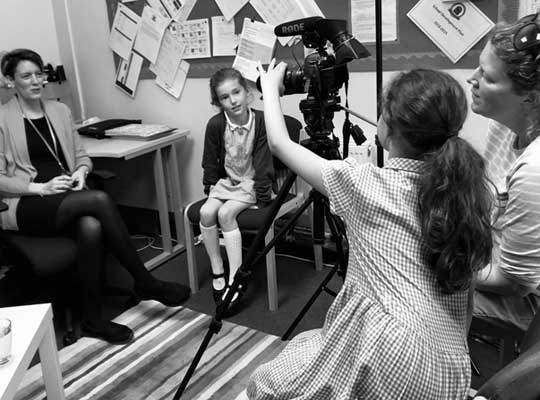 "The school was delighted to be approached by Beyond Local regarding this project. It is wonderful for the school to be building strong links with local businesses and with its local community. The 'Big Art' project itself was an enormous success, not least because of the extraordinary commitment and enthusiasm from Nina. The children gained hugely from the opportunity to explore art in a new way, try out new media and techniques, and be free to experiment, taking their own project in the direction of their choosing. Their finished pieces are wonderful and a real testament to Nina's encouragement and guidance, but better still is the confidence and the sense of pride with which they are able to talk about all they have achieved. We are enormously grateful to Nina and Beyond Local for their support of the school and the children, and the time, resources and effort which they have so willingly invested in this project.​"
Mrs Taylor, Headteacher, Churchill C of E Primary School, Westerham