Free Training - An introduction to Google Analytics
Back To Blog | Posted By Mark Duerden 3 years ago
#FreeBLT
The next round of free BLT (Beyond Local Training) to help demystify all things digital for small business owners is an introduction to Google Analytics. So why not spend some time on a Friday afternoon learning a few quick tricks to help grow your business online?

Why?
Your online presence can make or break the future of your business, so it's worth doing all you can to get the most out of the world wide web and drawing in lots of potential customers to boot.
Google Analytics is a free application that can help you measure traffic and analyse how people use your website. This can give you great insight into how well your website is performing as a business tool.
Who?
If you are in business and you want to find out how your website can help grow your business, then this session is for you.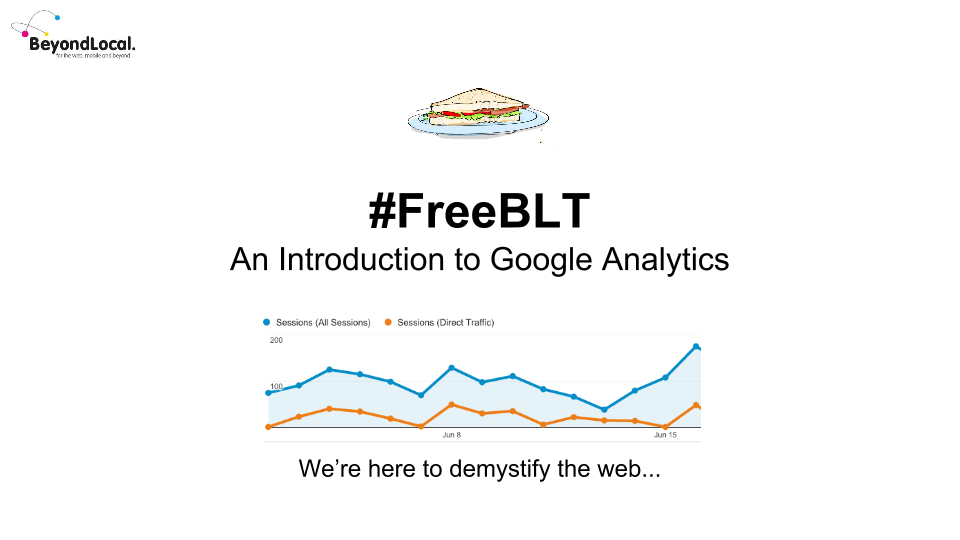 It would help if you have access to a Google Analytics account already, but it isn't a necessity. If you are unsure whether you do or not, please get in touch and we can help advise.
When?
45 minute slots are available between 2pm and 6pm on Friday 10th July at our Westerham Office. You can book a slot by emailing us or going to our Facebook event page.
14 reasons to come and talk to us about Google Analytics (GA)
It's free!
It's fairly easy to get started.
GA can help you understand by the sources of your website traffic.
You can see the where your visitors come from geographically.
It can help you spot any weak spots or problems with your website.
You can see how people move around and through your website: from their entry page to their exit page as well as the pages in between.
Measure the percentage and behaviour of visitor to your website using mobile devices.
You can track the effectiveness of any marketing campaigns and consequently begin to measure ROI.
Identify the type of visitor who 'converts', that is someone who makes a purchase or an enquiry.
You can set 'goals' to evaluate whether your website is doing what you need.
Loads of online help and resources (as you would expect from Google).
It is really powerful for Search Engine Optimisation as GA links to the tools that help you identify great keywords for your website.
Google Analytics will change the way you think about your website…
...and Beyond Local will help you learn the basics for free.
Mark will be taking our first session, but you'll get to meet Nina too – read about our 25 years of web experience.
If you can't make it in to see us, then contact us to receive the slides used in the session.
What's next?
If there is a topic you would like us to cover in our #FreeBLT sessions in future. Please email us or follow us on twitter @beyondlocal_ and use #FreeBLT to make your suggestion for the next training session.